Enetiko Resort Suites & Spa
In beautiful and cosmopolitan Parga that is located in the enchanting coast of the Ionian sea you can find for your stay Enetiko Resort Hotel. In our 4 starts Hotel you will enjoy a comfortable stay in a unique environment with all the modern conveniences. It is 200 metres away from the centre of Parga and its beaches. Enetiko Resort Hotel proposes the following accommodation 8 studios, 4 hotel rooms, 3 apartments, 4 suites, 4 maisonettes, bar, pool and spa facilities such sauna, and hydromassage.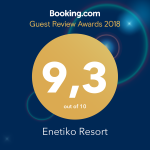 Enetiko Resort Hotel has 5 Deluxe Double rooms, 2 Superior rooms, 2 Junior suites, 1 Family apartment, 4 maisonettes apartments, 2 Standard hotel rooms, 7 Triple rooms, bar, pool and spa facilities such sauna, and hydromassage. All rooms have air-conditioning, Satellite TV and a safe, while some of the rooms have a kitchen. The beds, the mattresses, the sheets and the furniture all are ecological from COCO-MAT company.
Parga is a beautiful seaside town with an intense island feeling. Built amphitheatrically around a port, Parga stands out for the strong Venetian Castle built on top of a hill above the town, the small island of Panagia in front of the port and the traditional architecture with the narrow cobbled streets and the stone houses.